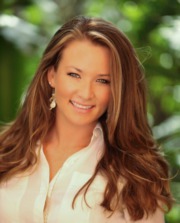 Danielle is a 3rd generation Realtor®️.  She has lived and breathed Real Estate her entire life. Her Father was one of the top producers on Maui for over 40 years and currently Danielle and her Father work together even though Danielle is in California and he is on Maui. Danielle is also licensed in Hawaii if you're interested in Real estate or just questions about Hawaii because she knows!  
Real estate is definitely in her blood and she has developed such a passion for it. She was born and raised in Wailea, Maui. When she lived on island, Danielle was involved in many sports on land and water. 
She was a competitive gymnast for thirteen years traveling inter-island, mostly to Oahu, but gave it up when she was fifteen. She currently plays tennis, surfs, snowboards, sails with her boyfriend and plays softball and equestrian polo with a huge love for horses. She just picked up riding a one wheel too! 
When she was a senior in high school, she started playing Polo and it has been her passion ever since and plays all over the United States with dreams to play around the world.  After graduating from Seabury Hall in 2005, Danielle attended Santa Barbara City College, then transferred to Texas Christian University in Fort Worth where she obtained a Bachelor's Degree in Communications. 
She definitely has that entrepreneurial drive. She wants it to be a fun and exciting process for all her clients.  "I really loved my choice for pursuing communications in college because it allowed me to study a real important aspect in life. Great communication allows for great success whether it be in business or personal relationships. I personally strive to be positive in life because positivity attracts amazing things and we become happy and happiness and peace of mind is the ultimate goal right?!" Investing in Real Estate is a big step and she is honored to be a part of it. 
Danielle has a great competitive and determined spirit on and off the polo field. She has developed a wide contact database in the polo industry, living in different parts of the country over the years and she has made a name for herself. She loves to compete and win and she will bring that spirit to the real estate world in all of her deals. The one thing about Danielle, is that no matter what, she always will find a solution to any problem. She is optimistic and the type of person you want to be around; you may get a laugh in or two as well. 
She moved from Hawaii back to the central coast of San Luis Obispo in January 2021 and so excited to have joined Compass and the Langley Team! Such an amazing platform to be apart of with immense support!